---
About Us
Welcome to Oshun Squared, your number one religious source for all things Spiritual, Santeria and Palo Mayombe. We're dedicated to giving you the very best of Botanica products, with a focus on Beadwork, Statues and Ceramics. 
Founded in 2004 by Baba Yeyerefi, Oshun Squared has come a long way from its beginnings offering a small list of services. When Baba Yeyerefi first started out, his passion for Spiritualism, Santeria and Palo Mayombe derived from a deep routed long family history of believers and practice, which drove him to quit his day job, take a leap of faith so that Oshun Squared can offer you an array of top quality products and services.  
In 2016, Baba Yeyerefi joined forces with Baba Ochun Aina to expand the brand and serve customers from all over the world, our exclusive line of custom Beadwork and now are thrilled that we're able to turn our passion for our faith into www.oshunsquared.com our own website.
We hope you enjoy our products as much as we enjoy offering them to you. If you have any questions or comments, please don't hesitate to contact us.
Sincerely,
Baba Yeyerefi & Baba Ochun Aina
Ólòdúmàré gbè wà òòó!     Àsé òòó
                                                         Over 40 years of Belief, Practice, and Experience
🐝🌻🤗🍯🧡 Òré yèyè óoo! Òśún gbé wá óoo! Àsé! 🐝🌻🤗🍯🧡
Blog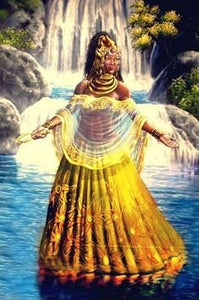 Oshun's energy is a conundrum wrapped in a mystery, buried in an enigma & shrouded in secrecy! Let's start a journey together discussing how she continues to bless us all...