---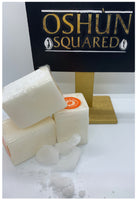 Camphor Tablets | Alcanfor
Oshun Squared
Regular price $3.25
Tax included.
Shipping
calculated at checkout.
Camphor are known and used for their ability to cleanse your home from negative energy & spirits. A traditional way to use the camphor in spiritualism is by adding water to a clear glass of water, add 1 camphor tablet and 1 blue square to keep negative energies and spirits at bay. Place fixed water behind your entrance of your door. 
Camphor is sold in single packets each packets brings 4 camphor tables (1"x1") or full box with 16 packets with a total of 64 camphor tables. 
WARNING:
Keep away from Children and pets 
For external use only 
Do not swallow can be fatal ( If swallowed seek medical attention immediately)
Not intended for medical purposes
El alcanfor son conocidos y utilizados por su capacidad para limpiar su hogar de la energía negativa y los espíritus. Una forma tradicional de utilizar el alcanfor en el espiritismo es agregar agua a un vaso de agua transparente, agregar 1 tableta de alcanfor y 1 cuadrado azul para mantener a raya las energías negativas y los espíritus. Coloque agua fija detrás de la entrada de su puerta. 
Alcanfor se vende en paquetes singulares cada paquete trae 4 cuadros de alcanfor ( 1"x1") o la caja completa que viene con 16 paquetes singulares con un total de 64 cuadros de alcanfor. 
PELIGRO 
Mantener fuera del alcanze de niños y mascotas 
Para uso externo solamente 
No consumir puede ser fatal ( Si lo consumes buscar ayuda medica imediatamente) 
Sus intenciones no son para uso medico.
** RENUNCIA DE RESPONSABILIDAD: Este producto se vende SOLO como una fuente de información y no hacemos absolutamente NINGÚN RECLAMACIÓN o GARANTÍA de que producirá ningún resultado tangible en absoluto. El comprador asume toda la responsabilidad de compra y libera al vendedor de toda responsabilidad. Se vende SOLO para fines de entretenimiento. Ninguna de las hierbas, raíces o elementos de Oshun Squared Botanica está destinada al consumo o al uso médico.
Sold as a Curio. For external use only. Not intended for children. Not intended for consumption or medical use.